The Census has a neat report out today using American Community Survey data to detail poverty rates by race, metropolitan area, and so on. The most interesting part of the report is the breakdown of poverty rates within given races. Asians, for instance, are often treated as a monolith population with high incomes and low poverty. But the reality is much different: Asians in aggregate have higher incomes and lower poverty than average, but there is considerable diversity within the Asian population.
As this graph details, poverty rates for Asian subgroups vary from 5.8 percent poverty for Filipinos to 15 percent poverty for Koreans. Koreans and Vietnamese were the only Asian subgroups with above average poverty rates. The poverty rate among Chinese was just below the average poverty rate at 13.4 percent.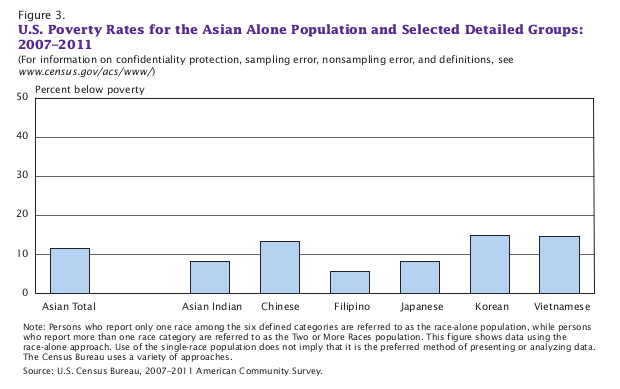 The full report is loaded with both graphical and tabular breakdowns like this one. Check it out.