David Masciotra has a piece at Salon about why white working class people are bad and should not be sympathized with. It's not particularly well-written and drags on forever, but the basic point is that white working class people are racist and so they should not be sympathized with. The payoff paragraph comes near the end:
The demographics and culture of America are steadily becoming more civil, decent and communal for blacks, Latinos and gays, because of the improvements in ethics among younger people, and because of the shaming of bigots. Knowing is a major factor in the continual enhancement and expansion of American freedom. Those who oppose that expansion – anti-gay, anti-black and anti-women weirdoes – are increasingly unwelcome in civil society, and it is the weight of shame that silences the bigots who are obstinate. It is the tool of shame that declaws and neuters them.

The best tactic of defeat for Donald Trump is to shame his supporters, not sympathize with them. If support for Trump, or anyone with such ignorance and hatred at the center of his vision for the United States, invites public embarrassment, supporters will begin to cower. If they cower, they lose.
Liberals push this argument out from time to time, but it's not consistently applied. If being a "bigot" on some topic should disqualify a group from sympathy on other topics, then liberals should also apparently have little sympathy for Blacks. After all, the great majority of Blacks do not support gay marriage and are thus, in Masciotra's words, "anti-gay weirdos."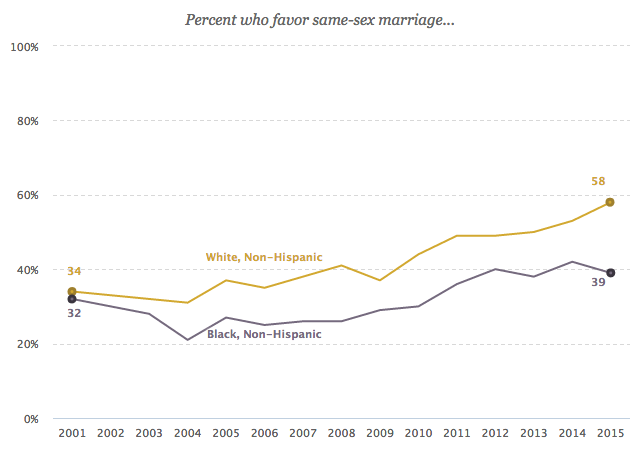 One of the most interesting elements of the march towards gay marriage was watching liberals navigate this thorny fact, especially in the aftermath of California's Proposition 8 in 2008, where the initial exit polls showed 70% of Blacks voting against gay marriage. If my memory serves me right, immediately after the Proposition 8 vote, there were some murmurs about how Blacks were impeding gay equality, but mostly liberals were extremely insistent upon saying we shouldn't go down that road, and even those who did initially express disdain for how Blacks voted quickly walked it back or pivoted towards focusing on other demographic groups like the olds.
Alternatively, when the topic has been brought up, I've seen liberals emphasize (as is true) that Black people are not a monolith. Many support gay marriage. Many oppose it. The upshot of this is supposed to be that it's kind of unfair (as seems true) to paint them all with the anti-gay-marriage brush just because that describes the majority of them. But obviously this same analysis is true of white working class people, many of whom are anti-racist liberals and leftists even if the majority of them are not.
As far as I know, nobody has argued that liberals shouldn't sympathize with the plight of Blacks more generally just because most of them were and still are against gay marriage (and even acted on that opposition at the ballot box). Yet this is precisely the tact many liberals seem to take when it comes to the plight of working class Whites just because most of them are racist (and of course the idea that self-styled coastal cosmopolitan Whites aren't racist is a joke, but we can leave that aside here).
So this leaves us with an interesting question. If a group's bigotry in one area disqualifies them from sympathy on things they are seriously harmed by, then why are poor and working class Whites disqualified from sympathy while Blacks are not? I have my theories, but I am interested in what the "fuck the white working class" contingent has to say on this matter.
In my view, the fact that a group of people have failings in certain areas (even severe failings) doesn't mean that you should refuse to sympathize with them in areas where they are genuinely oppressed. But if you want to go down that path, as many liberals seem to when it comes to lower class whites, then why would you stop at lower class whites? Why not refuse sympathy for every other group that can be shown to hold certain bad views?