One of the stranger threads coming out of this primary election is the delusional idea that the reason Democrats lost in 2010 (and in midterms more generally) is that angry activist progressives refused to vote because they were mad. Barney Frank seems to be the one who set off the meme, but it's spread to others since then.
I saw the thing show up yet again in my Twitter feed yesterday and it got me annoyed enough to dive into the November election supplements of the 2008 and 2010 Current Population Survey. The survey doesn't tell you whether people stopped voting in 2010 because they were super-mad progressive activists, but it does tell you how the demographics of the 2008 and 2010 electorate differed, which gives you a better insight into the reality of what's going on in midterm elections.
According to the CPS, 131 million people voted in the 2008 election while only 96 million voted in the 2010 election. This is a constant reality of midterm elections: huge swaths of the population simply do not vote in them. This wouldn't necessarily be an issue if each demographic subgroup saw their participation fall by a proportional amount. But that's not what happens in midterms and certainly not what happened in 2010. Participation falls in all demographic subgroups in midterms, but it falls more in some than others.
Here is how the composition of the electorate changed between 2008 and 2010 (the figures are the share of the electorate coming from each demographic group):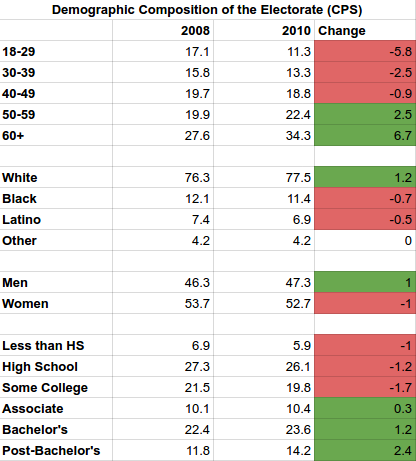 So who is to "blame?" Younger people, Blacks, Latinos, women, and lesser educated people. Those are the populations that, according to the mythology of this primary election, had the largest shares of people who got so mad that they sat out the election, thereby handing it to the Republicans.
In reality, the midterm drop in participation is not driven by highly-informed, highly-engaged voters that are sitting out as a protest. It's driven by populations (mostly younger, poorer, and lesser educated) who are lowly-informed and lowly-engaged, and who are thus only marginally attached to the electoral system. This is not a new insight of course, but perhaps one worth repeating given the stupidity unleashed of late on this subject.