Catherine Rampell has an odd article at the Washington Post about how Clinton is a fiscal conservative. What's strange about it is not the overall point. After all, Hillary is a fiscal conservative both in the sense that she favors a fairly balanced budget and in the sense that she is extremely reluctant to increase government spending. What's strange is that Rampell claims Clinton intends to greatly expand the size of government.
Here's Rampell:
You're probably used to thinking of Clinton as just another spendthrift liberal, oblivious to fiscal restraint. And it is true that she wants to expand the footprint of the federal government.

By a lot.

Consider her "New College Compact," which would substantially reduce higher-ed costs for new students and lower debt for past ones. She also plans to expand the Affordable Care Act. Her proposed expansions and investments in clean energy, early-childhood education, family leave, veterans' services and infrastructure look pretty costly, too.
Is that really "a lot?" By what standard? According to the TPC scores, Clinton intends to expand the tax level by 0.5 points of GDP over the next decade. Here is what that looks like compared to the tax levels of all the countries the OECD has data on: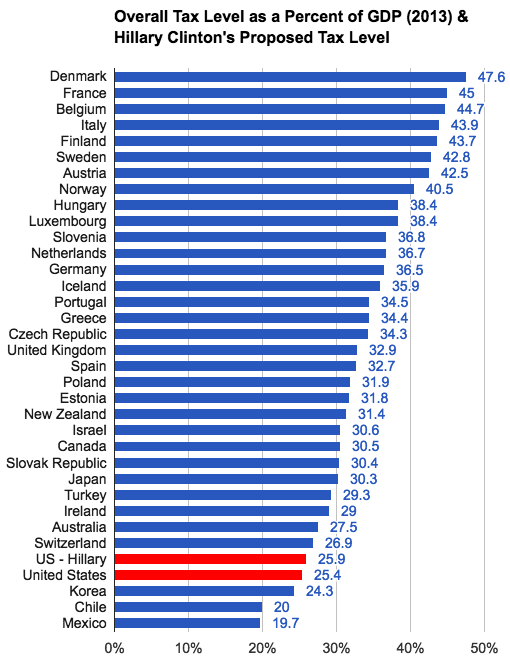 Other scores have her increasing the tax level by as much as 0.7-0.8 points of GDP! Which is roughly equal to how much she intends to spend. Centrist Democrats might be impressed by this massive leap, but that only speaks to their extremely conservative fiscal views (in the global perspective). If we added 0.7 points of GDP to the tax level per decade, it would take 318 years to achieve the current tax level of Denmark.