Jim Clyburn has criticized Sanders' plan for free public college by saying it would be a disaster for private HBCUs (historically Black colleges and universities). This got me wondering: how big are private HBCUs? Specifically: what share of Black college students attend a private HBCU?
The NCES has two spreadsheets for 2013 that tell the story (I, II).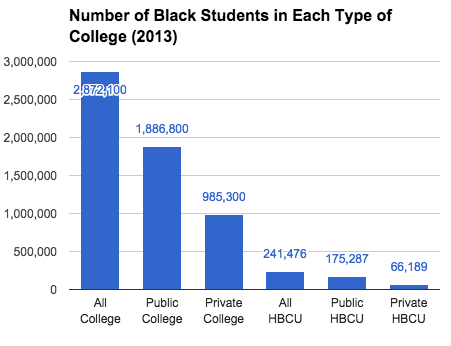 Here is the same graph, with each bar representing the percent of all Black students attending each type of college.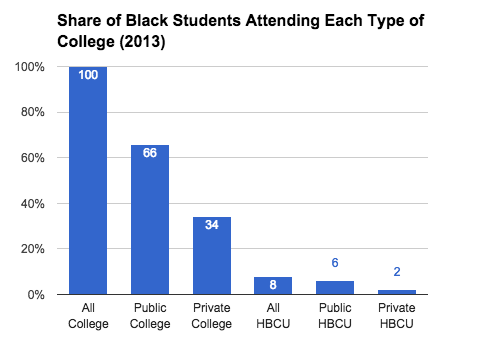 So, overall, HBCUs serve 8% of Black college students. Private HBCUs serve 2% of Black students. Overall 66% of Black students attend public colleges of one sort or another, and 75% of Black HBCU students attend a public HBCU.
What's interesting about Clyburn's take on this is that his argument is an argument against public school tuition subsidies in general. The point is that, when you subsidize public colleges, that puts private colleges at a competitive disadvantage. This will mean those colleges attract fewer students than if public college wasn't subsidized. This is true regardless of the level of subsidy. Subsidizing public college tuition by 10% gives them an edge over private colleges. So does subsidizing them by 50%, 80%, and (as Sanders proposes) 100%. The more you subsidize them, the bigger the competitive edge they have on price, but there is nothing magically different about going from the level of subsidy they have now to the level of subsidy Sanders proposes. It's a difference of degree not kind.
So that leaves you kind of scratching your head. Does Clyburn oppose all public school tuition subsidies on the (likely correct grounds) that they put private schools at a disadvantage (and thus private HBCUs at a disadvantage)? And if not, why not?